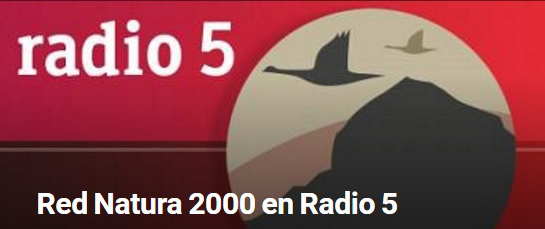 All Natura 2000 series on Radio 5
Listen to the radio programs that Radio 5 has dedicated Natura 2000 Network Life series in the protected areas of Spain.
Today Spain is the country with the highest biodiversity in Europe. No other territory of the European Union has the natural treasures that live in Spain. emblematic species such as the wolf, black stork, lynx, bear or the Iberian imperial eagle campean every day by its mountains. But also communities of invertebrates and plants that form, as a whole, the true wealth of Spain.
Para asegurar la conservación de los hábitats naturales y de las especies de fauna y de flora silvestres, la Unión Europea creó en 1992 una red de espacios naturales protegidos de alto valor ecológico en toda Europa, la Red Natura 2000. Pero la Red Natura 2000 es mucho más que reservas naturales. Son espacios donde las personas y la naturaleza conviven para el bien común y los habitantes de los territorios se convierten en protagonistas de la gestión y los beneficios que proporciona la red.
In this series we take a trip by the Natura 2000 network in Spain to know some of the people living in Red Natura 2000. With his life and work make biodiversity conservation a reality in Spain. Are farmers, musicians and architects, photographers and restaurateurs are resineros. They are protagonists and managers of natural areas, providing an invaluable benefit to other human communities and the planet.
Listen Red Natura 2000 Radio 5 www.rtve.es/alacarta/audios/red-natura-2000-en-radio-5/